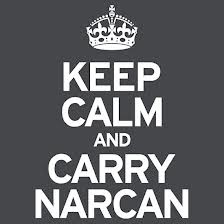 CVS may be joining Walgreens in providing Narcan without a prescription. That means for Rhode Island, Narcan is going to be much more widely available. Rhode Island Hospital drug abuse epidemiologist Traci Green has been working with a statewide overdose prevention task force to get Narcan – also known as naloxone—into as many hands as possible. The drug can rescue someone who has overdosed on an opioid like heroin or prescription painkiller OxyContin.
Until recently, Walgreens was the only pharmacy chain that could sell the drug to anyone without a prescription. But now, with CVS's participation, Green says naloxone access will be better where people need it.
"As we see new emerging populations in rural and suburban areas and places outside our metropolitan areas, we need to think about ways to improve naloxone access for those individuals and their family members and friends," said Green.
The state's health department says the drug has been used to reverse nearly 1000 overdoses so far this year. It also reports that more than 125 Rhode Islanders have died from drug overdoses since the beginning of this year.
This may be a good sign of future things to come within our own state and all the states in the United States. Props to CVS and Walgreens!