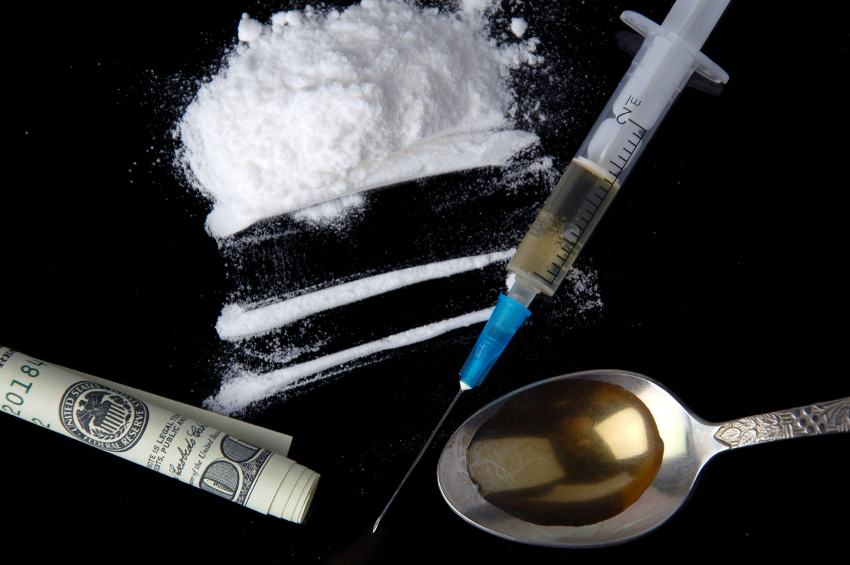 Indianapolis authorities and drug experts say heroin use has swelled over the past two years, leading to a troubling number of overdoses and deaths unlike anything the city has seen in more than a decade.
The spike came suddenly, spotted by emergency medical technicians who noticed last year they were responding to more runs related to heroin and its sister sedatives, prescription opioids such OxyContin, Codeine and Percocet.
"I've been in this system for almost 15 years. I have not seen as much heroin in my career as I've seen in the last two years," said Scott Campbell, the east district lieutenant with the Indianapolis Emergency Medical Services department.
Consider these cases, all of which Campbell responded to in the past year:
>A Zionsville teenager who overdosed in the back of his father's SUV while driving around the city with friends. When the teen lost consciousness, his friends panicked and threw him out of the car and into the street.
>A middle-aged man who shot up in the parking lot of an Eastside auto repair shop. Employees of the shop found him slumped over the steering wheel, the car in park and his foot on the gas, burning out the engine.
>A young man found barely breathing in the bathroom of his Eastside workplace. EMS crews found a cooking spoon on the floor and the syringe needle still in his arm.
All of those overdose victims survived. About 630 times last year, EMS crews arrived fast enough to inject the patients with a powerful antidote called naloxone. The drug, used as a nasal spray or inserted intravenously, can reverse a heroin or prescription opioid overdose almost instantaneously.
But too often, authorities say, an overdose is fatal. Last year, 110 people died in Indianapolis from a fatal heroin overdose, a number that has doubled over the past three years.
The typical victim of heroin's resurgence fits a description much like many of the cases Campbell encountered over the past year. Some are teenagers and 20-somethings. Others are middle-aged.
Experts point to a host of reasons why those people are using so much heroin. In an increasing number of cases they didn't start with a syringe needle in their arm — the addiction started in their pill cabinet.
To understand heroin addiction, said Dr. Charles Miramonti, chief of Indianapolis EMS, you have to first understand prescription painkiller addiction.
The U.S. Government Accountability Office traces the painkiller boom back to 1995, when the Food and Drug Administration approved a controlled-release pain pill called OxyContin in response to complaints that patients with cancer and other chronic diseases were not getting the pain relief they needed.
By 2001, according to a GAO report, OxyContin was the most prescribed brand-name narcotic medication for treating moderate-to-severe pain in the country.
Ten years later, prescription pain medication had become a $329.2 billion industry, with a record 4.02 billion drug prescriptions filled in 2011, according to the journal ACS Chemical Neuroscience.
"There's an industry around that," Miramonti said. "You have just this surge of pain medication that has hit the market in the last 10 to 15 years, and you have this giant surge in the emergency department of people who think they require it.
"So they fall back on the emergency departments over and over again."
Painkiller addiction is the kind of addiction that can sneak up on you.
In many cases, it starts with chronic pain, such as a persistent lower back strain or a throbbing side ache.
To numb the pain, a doctor might prescribe a painkiller. Maybe something like Percocet, which was prescribed over 30 million times in 2011, according to the same ACS journal.
Most of the time, the pills do the job. They take the pain away. But many users experience something much more powerful than pain relief.
A 2002 study in the journal Science and Practice Perspectives examined why some users can get hooked on these pills.
According to authors Thomas Kosten and Tony George, when an opioid travels through the bloodstream to the brain, the chemicals attach themselves to brain cells and can trigger a euphoric sensation — not unlike the feeling you get while eating or having sex.
The sensation is enough for many to keep coming back. It's the same feeling that also attracts teenage users who raid their parents' medicine cabinets for pills. Many of those teens mistakenly believe that prescription pain relievers are safer than illicit drugs, according to a 2012 GAO report.
"Nationwide, you've got 15,000 accidental overdoses on prescription narcotics compared to 5,000 for heroin and cocaine," Miramonti said. "No one ever saw that coming."
For more than a decade, prescription painkiller abuse was the game most addicts chose to play. But in recent years, state and federal regulators have begun cracking down on endless and unnecessary refills and prescriptions.
One of the most prominent crackdowns first came in 2011 in Florida, a state known for its "pill mills" — clinics that dole out painkillers but in many cases are not operated by licensed physicians. That year, Florida lawmakers banned doctors from giving out pain medicines directly, with some exceptions.
In 2012, the Drug Enforcement Administration began targeting distribution giants like CVS and Walgreens, monitoring and restricting how much of a painkiller drug, such as oxycodone, they could give out.
Indiana has followed suit. Last year, lawmakers gave Attorney General Greg Zoeller increased oversight over pain management clinics. That change culminated in a new set of emergency rules adopted last October by the Indiana Medical Licensing Board at the direction of Indiana lawmakers. Under the board's new requirements, which went into effect in December, doctors now need to conduct annual drug tests for patients who take chronic pain medication.
In January, the Indiana Medical Licensing Board suspended an Anderson doctor's license indefinitely, based on an allegation that he pre-signed thousands of prescriptions so that his midlevel staff could prescribe controlled drugs, a violation of state law. The doctor had been at the center of an investigation involving 31 drug-related deaths in five counties.
"You have multiple pharmaceutical distributors who are shut down," Miramonti explained.
"Prescribers are tracked. Who gets the prescription is tracked. We're seeing more and more physicians who are coming under scrutiny for their prescribing practices."
Although the crackdown helped address one problem, experts say it worsened another: heroin abuse.
Experts say it's not too much of a leap for prescription painkiller abusers to switch from a medicine such as Oxycontin to an illicit drug like heroin.
Both come from the same family of narcotics, so they provide the same pain relieving and euphoric sensations, though heroin users say the illicit version is significantly stronger.
It's also cheaper. While a painkiller addiction can cost a user hundreds of dollars every day, heroin can cost $50 to $100 per day.
"Distribution, availability, purity and cost of heroin has made it an easy drug of choice," said Aaron Kochar, the director of prevention and education for Porter-Starke Services, a Valparaiso-based mental health facility. "As we've cracked down on the illicit use of prescription drugs, we haven't solved the addiction. They're switching over to heroin."
Getting the heroin problem under control in Indiana could take years, some officials said.
http://www.indystar.com/story/news/crime/2014/03/08/indys-heroin-epidemic-its-cheap-easy-to-get-deadly/6214269/