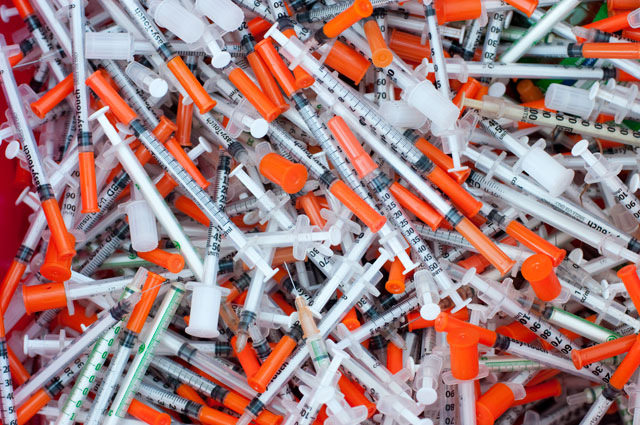 Smack, snow, white horse, white lady, Aunt Hazel, big H, black pearl, brown sugar, tar, skunk, china white. No matter what you know it as, it all means one thing, heroin.
Heroin was most popular in the 1960s, 1990s, and now once again the drug is making a return and is showing itself in high numbers in Indianapolis.
"When I got (to Indy) in 2012, one of the first questions I asked when talking to narcotics detectives was about heroin. They'd seen some heroin but not a great deal. That has changed," said Troy Riggs, director of the Indianapolis Department of Public Safety.
The increases in heroin usage were found using EMS data. According to Michael Kaufmann, medical director of EMS, StatFlight and critical care transport at St. Vincent Health, his team has seen an increase in heroin overdoses. Because heroin takes such a toll on the body, users will also enter the hospital for one issue, such as kidney disease and then heroin usage is discovered.
"We used to see heroin overdoses on a monthly basis. There's no doubt that now we're seeing them on a daily basis," said Kaufmann.
Based on that data, Bryan Roach, deputy chief of administration of the Indianapolis Metropolitan Police Department said IMPD has stepped up its enforcement on dealers and users and have made a significant dent in the problem.
Experts say heroin abuse is a direct result of the state's strong attack on the prescription drug problem. Which is a common story amongst many other states. The CDC named Indiana among the top 13 states for the highest number of written prescription painkillers. The state took action.
The Indiana Board of Pharmacy started prescription monitoring programs, and recently Indiana Attorney General Greg Zoeller obtained more authority ver chronic pain clinics, and physicians are now require to do testing on chronic pain medication users.
These measures and more have made it more difficult to obtain prescription drugs, which in turn has helped the prescription drug problem, but now addicts are switching to heroin as an alternative.
"What heroin does is block the pain pathways to the body," said Sheila Mishler, executive director for the St. Vincent Stress Center and Patient Services.
Today's heroin is also much more potent and can either be snorted or injected. At the height of heroin's popularity, it was 30 to 40 percent pure. Today, it's 60 to 90 percent pure. This extra-strength heroin also increases the likelihood of overdosing.
"Because this isn't regulated, you never know what concentration you're getting or injecting," said Kaufmann.
During an overdose, users' breathing becomes slow, they become unconscious, develop a slow pulse rate, stop breathing or die. There is a life-saving drug called Narcan that can be administered in order to save the overdoser's life. It has saved multiple lives in New Jersey and Massachusetts already.
"We're using Narcan through EMS and next year, we're going to expand the use of Narcan to fire services," said Riggs. "We've already expanded this in the Southwest district of Indianapolis. Since April they've saved 12 lives. This will go to other districts next year."
What also makes heroin an issue is that it's very cheap especially in comparison to prescription drugs.
"Heroin is about $6 to $10 on the street. Even if a person preferred prescription drugs, why spend four to five times more on oxycodone," asked Mishler.
While heroin usage and overdoses are primarily seen among white males in their late 20s, youth, and adults in their 30s; the heroin epidemic is important to all communities.
Heroin and addiction know no race, age, gender or socioeconomic status. Violence is associated with heroin usage therefore many believe Indy's growing crime problem may be due to addictions to heroin.
"The African-American community should be concerned because it's affecting their community too. The heroin problem is everyone's problem. We all should be worried. It's your family, friend, neighbor; it's a fellow Hoosier. We all should be offended and care," said Riggs. "And any time drugs are sold, that means money and violence can come as a result of that."
IMPD's Roach said residents in the Southwest area of Indianapolis recently saw a rise in crimes such as robbery. It was found that many apprehended suspects committed the crime to fuel their heroin addiction. Many also had mental health issues.
Riggs added that this year, four SWAT officers were shot by an individual selling heroin from his home. Behind the home was a storage unit filled with stolen goods addicts would barter for heroin.
Those who are using heroin should get help immediately.
Read More: http://www.indianapolisrecorder.com/news/local/article_adb19468-0dd8-11e4-8cb2-001a4bcf887a.html